Hornblower Group
We are Hornblower Group, a global leader in world-class experiences and transportation.  There are two divisions that make up Hornblower Group – City Experiences and American Queen™ Steamboat Company.
The brand heritage of our organization dates back nearly 100 years, with the establishment of Boston Harbor Cruises in Massachusetts in 1926; on the west coast of the United States, Hornblower Group began in 1980. Across our growing portfolio, we have a long-standing history of expertise and innovation and have continually redefined the marine hospitality industry. Today, our footprint spans 111 countries and territories, and 125 U.S. cities, with offerings including water-based experiences, land-based experiences, overnight cruise experiences, and ferry and transportation services and marine consulting & services.
Our Hornblower Group global headquarters is located in San Francisco, California, with additional corporate offices in Boston, Massachusetts; Chicago, Illinois; London, United Kingdom; New Albany, Indiana; New York, New York; and across Ontario, Canada.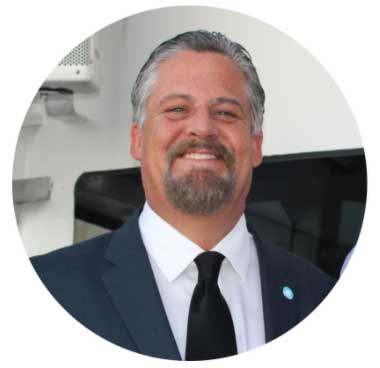 Scott Thornton
Chief Operating Officer Ferry & Transportation Division President
Scott Thornton
Chief Operating Officer Ferry & Transportation Division President
X
Scott Thornton is the Chief Operating Officer of City Experiences' ferry and transportation division, where he leads the operations of all ferry systems it operates, including NYC Ferry, Puerto Rico Ferry, and more.
In his more than three decades with Hornblower, Scott has served at every level of the organization, beginning as a bartender onboard the California Hornblower in Los Angeles. In his time at Hornblower, Scott has exemplified the leadership and creativity that drives our growth and success, helping to lead each Hornblower start-up operation and ensuring the highest level of operational standards and focus on Safety, Quality, and Crew Development.
Prior to serving as COO of Hornblower Group's Ferries & Transportation Division, Scott served as Chief Operating Officer of NYC Ferry. Since its launch in 2017, NYC Ferry – a new public transit option serving Manhattan, Queens, Brooklyn, and The Bronx – has served more than 17.5 million riders.
Before leading NYC Ferry, Scott was General Manager and Vice President of Operations of Alcatraz Cruises, which, under his leadership, introduced the first ever hybrid ferry in 2009. Soon after Alcatraz Cruises became the first triple ISO-certified passenger maritime operation, Scott also led the Alcatraz Cruises crew to their highest level of annual ridership while maintaining a dedication to safety and quality which led to Alcatraz Cruises being named the No. 1 landmark in the U.S. in TripAdvisor's' Traveler's Choice award. In addition to this experience, Scott spearheaded Hornblower's Statute Cruises launch in New York City.
Scott is a certified Captain and resides in New York City