Clean Air … Clean Water … Clean Future
Respect Our Planet is an environmental management plan designed to promote best practices throughout our business and to encourage our guests to adopt these practices in their lives.

Our Commitment
Historically, water transportation is not known for its environmentally friendly practices. As a company, we acknowledge the challenges within our industry and are committed to a philosophy of continual improvement. These improvements are based on both internal and external operations that reflect our ongoing commitment to environmental stewardship. We are working hard to reduce our impact on the environment as well as raise awareness within our industry and our community.
In doing so, we have made some big changes. We have replaced our boat engines with cleaner Tier 3 marine engines and switched to biodiesel. We are building hybrid boats powered by solar, wind, and fuel cell technology. We offer carbon neutral cruises and are expanding our environmental educational programs to serve our guests, crew, and community. These improvements represent just a few of the many facets attributed to Respect Our Planet and our continued efforts toward a sustainable future.
We have established a clear vision for the future of our company and embrace the idea of what it means to truly be a sustainable company. To promote environmental stewardship and encourage others to adopt green practices into their lives, we have adopted the following goals as part of our mission to Respect Our Planet:
Showcase advancements made by Hornblower companies to become greener.
Educate people on how to reduce their environmental impact.
Motivate people to take action in small or large ways.
Partner with leading organizations to provide people with the opportunity to make environmentally friendly purchasing decisions.
Corporate Mission Statement
At Hornblower Group we are committed to respecting our crew, our visitors, and the natural environment. Through our Respect Management System, an integration of our environmental, health and safety, and quality management systems, we strive to serve you better and leave the planet a better place than when we began.

Environment
We Respect Our Planet and will protect and conserve the natural resources and ecosystems on which our business depends. We are committed to preventing pollution, reducing waste, conserving water and energy, and educating our visitors and employees on environmental stewardship. We will seek opportunities to innovate and partner with stakeholders that support our commitment to the environment as well as vendors with green procurement standards and packaging.

Health and Safety
We respect our crew and visitors because their health and safety are our priority. We expect every member of our crew to perform their tasks with a "safety first" attitude. We provide safe, healthy facilities and services for the enjoyment of our visitors and a healthy, safe work environment for all crew. We provide crew training and resources to ensure that safety is never compromised in our work activities.

Quality
We respect our visitors because we want them to be 100% satisfied 100% of the time. Since our business success relies upon visitor satisfaction, we dedicate ourselves to creating amazing experiences for our visitors in all business practices. We will ask for crew and visitor feedback and, as a result, we shall take prompt action to resolve issues.

Continual Improvements
We will truly Respect Our Planet by incorporating the best management practices into our operations and seek to continuously improve our management approach. We will continually improve our Respect Management System to enhance environmental, health and safety, and quality performance. In doing so, we will also respect our business and the livelihoods of our crew and stakeholders by ensuring the continued economic success of our company.
We RESPECT all applicable laws, regulations and industry standards under which we operate and, as an ethical and socially responsible company, we are committed to full compliance with these requirements. We will verify our compliance and performance through third-party audits and will promptly correct shortcomings.
What We Do
At Hornblower, we are aware that our everyday decisions, large and small, impact the world around us. We aim to educate and inspire others by offering solutions and information on how people can adopt green practices and environmentally friendly habits. Together we can learn to Respect Our Planet. We invite you to explore our site and learn more about some of the many ways Hornblower companies are working to Respect Our Planet.
Advocate: One that speaks for a cause
At Hornblower, we consider ourselves to be advocates of the environment. Hornblower companies are committed to cleaner air, cleaner water, and a cleaner future. Our internal practices mirror these commitments. We strive to reduce our impact on the environment through a process of continual improvement. This includes resource tracking, reducing our energy and water consumption, utilizing advancements in transportation technology, waste management practices, and green purchasing.
Key Accomplishments
Through the expansion of our Anchor ticketing platform, we are now 80% digital. Based on the number of e-tickets sold, the Encore team estimates we have saved 33 million pieces of paper and approximately 6,335 trees!
Through its waste diversion and poncho recycling initiative, Niagara City Cruises has recycled over 713 metric tons over the past eight years. It has achieved an annual waste diversion rate of 80%, half of which is the iconic red ponchos recycled – they are compacted on-site and then given new life as other plastic products.
All vessels and offices for American Queen Voyages offer water stations and reusable water containers for both guests and crew, eliminating the use for paper goods and unnecessary waste.
The City Cruises UK fleet utilizes electronic engine management, controlling the fuel injection and timing to improve performance and lower fuel usage and emissions. Its exhaust systems are as eco-friendly as possible, reducing noise and emissions, and vessels also use a low Sulphur marine-grade diesel fuel designed to greatly reduce harmful exhaust gases.
The vessels used by NYC Ferry use a low-wake design which decreases disruption to upland shorelines.
In 2019, Niagara City Cruises was the recipient of the City of Niagara Falls Environmental Award in recognition of its significant contribution towards the protection and enhancement of the City's environment, which includes using biodegradable lubricating oil in an effort to protect the ecosystem, equipping vessels with fuel-efficient engines, and the previously mentioned recycling initiative.
In 2015, Statue City Cruises became a major supporter and participant in the Billion Oyster Project, a local New York Harbor initiative to repopulate the harbor with 1 billion oysters to their natural environments over the next 20 years. Oysters naturally support water filtration and help the local ecosystem thrive to allow for cleaner water for all.
Since 2015, Statue City Cruises has offset 100% of its annual electrical consumption through investing in 100% wind power Renewable Energy Certificates (REC). On an annual basis, Statue City Cruises prevents 467,699 pounds of carbon dioxide emissions from entering the atmosphere which is equivalent to greenhouse gas emissions from 518,658 miles/year driven by personal vehicles, Carbon Dioxide emissions from 23,870 gallons of gasoline consumed and saved the carbon sequestered by 1.7 acres of U.S. forests in one year.
Generation Green
Climate change. Increasing greenhouse emissions. Every day, we hear about the impact the human race has on the planet, yet our behavior is slow to change. Many people doubt their individual changes can make a difference.
What Can You Do
Imagine the impact if each one of us were to make more environmentally conscious decisions. Collectively we can do so much to foster change; this starts with individual actions that can be adopted within homes, in communities, across nations, and throughout the world.
There are many ways a person can reduce his or her impact on the environment and it begins with small changes in our daily habits. Start with one of our suggestions at your home or business. Talk to your family, friends, and colleagues about ways to contribute to a cleaner and healthier world.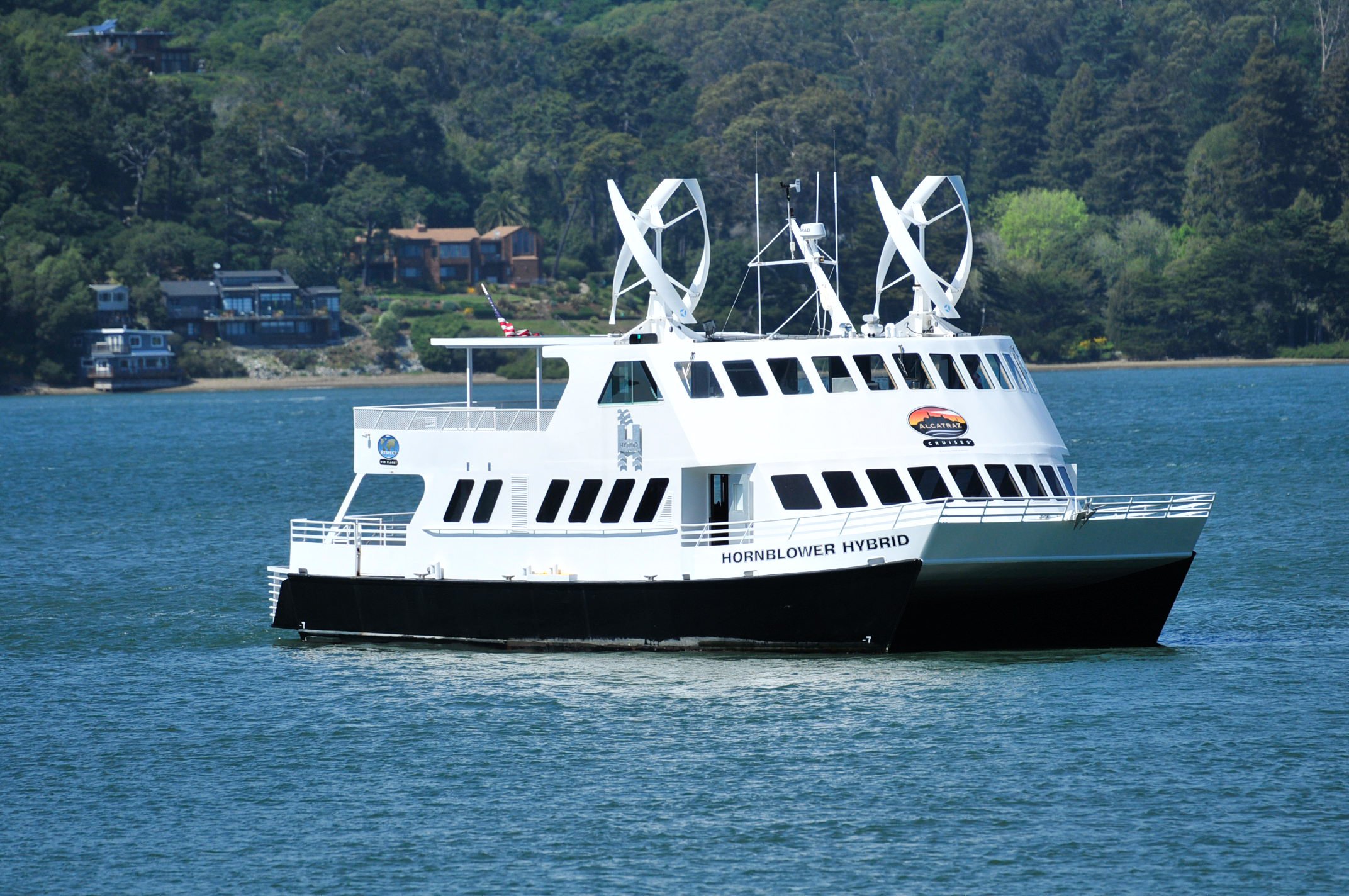 Hornblower Hybrid
The Hornblower Hybrid made its official debut in December 2008. The 64-foot hybrid, carrying up to 149 passengers, is the largest of any hybrid ferryboat in the world, making it a prototype that others in the ferry transportation industry can follow. It uses two ten-foot-tall 1,500-Watt wind turbines and a 1.5 KW solar array to power all house loads.
The 400hp electric motors are powered by a 320 KW generator and a 380V battery pack that supplements the clean Tier 2 marine diesel engines. Combining these technologies we are able to greatly reduce our fuel consumption and overall emissions.
Since Alcatraz City Cruises first introduced the Hornblower Hybrid, we've also expanded our hybrid fleet. In 2012, Statue City Cruises and City Cruises New York introduced the first hybrid ferry on the East Coast. We continue to expand our hybrid fleet and reduce our annual fuel consumption by over 235,000 gallons, which is the equivalent of taking 450 cars off the road or planting 718 acres of trees!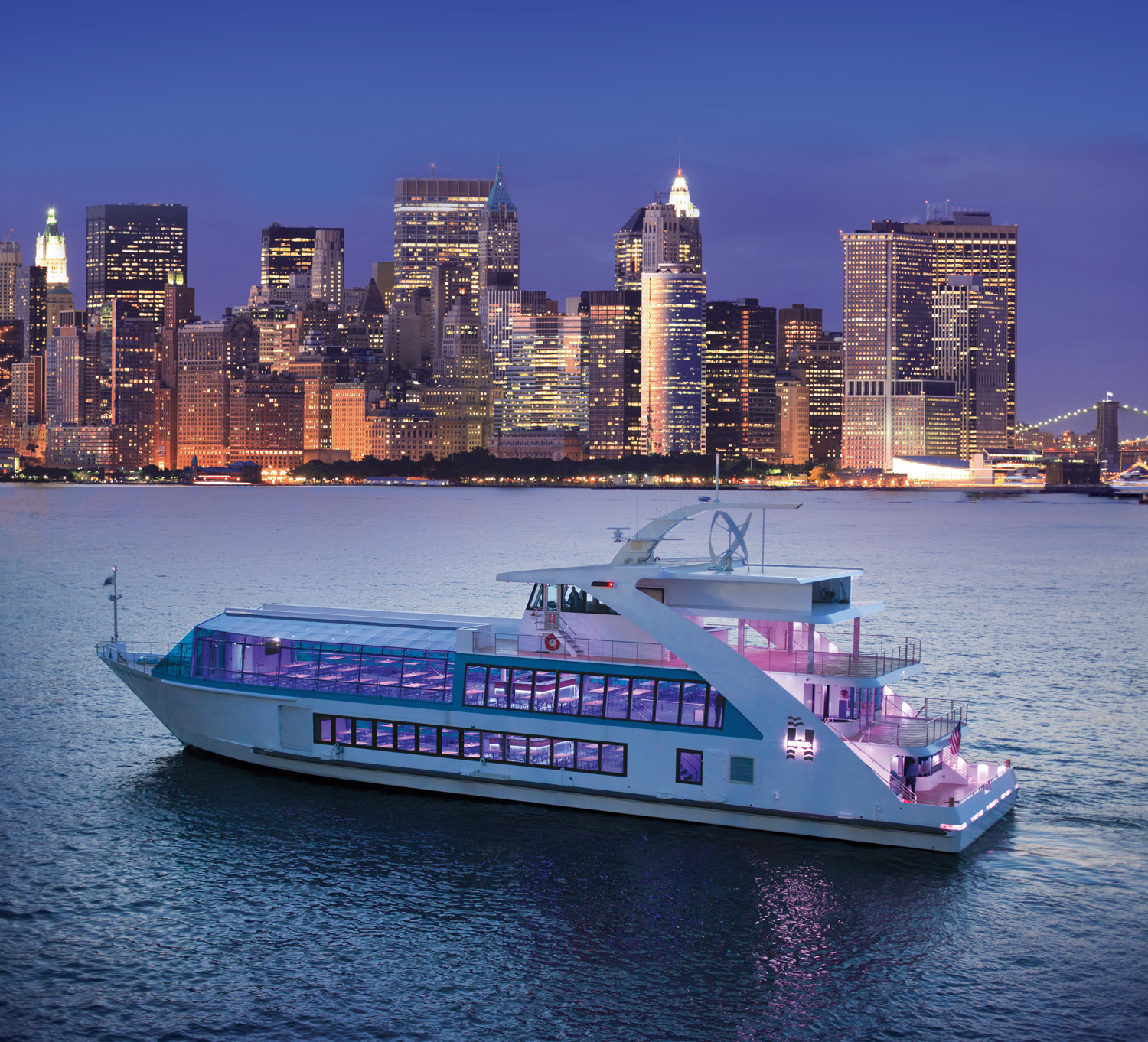 Energy and fuel savings
We built the Hornblower Hybrid by reusing another boat. In doing so, we saved more than 735,000 kWh of electricity in the construction and retrofit of the vessel. That is the equivalent of taking more than 60 U.S. homes off the grid for an entire year!
Instead of idling at the dock or burning diesel to keep the lights on (a standard practice in the industry) the Hornblower Hybrid switches from diesel power to battery mode to save fuel and reduce emissions. The Hornblower Hybrid by itself reduces our annual diesel consumption by more than 29,000 gallons! That is equivalent to taking 58 cars off the road permanently or planting 90 acres of trees. The hybrid boat uses approximately six gallons of diesel fuel per hour, compared to 30 gallons per hour used by a conventional ferryboat.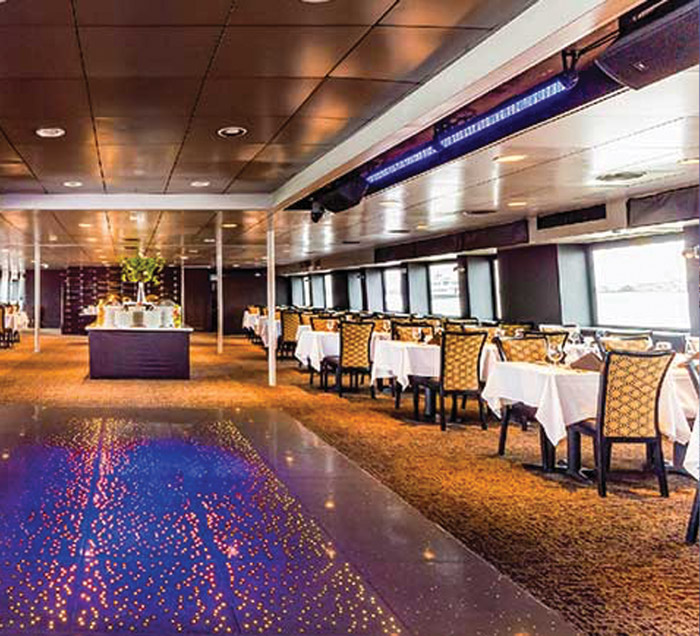 Green Interior
Carpet – Contains Everset Fibers made from post-consumer recycled material and is also recyclable.
Countertops – Indoor and outdoor bars are made from pieces of recycled glass by Vetrazzo, Inc.
Lights – The boat is fully equipped with an LED lighting system.
Interior Signage – Printed on Plyboo, a Forest Service certified product made from 100% renewable materials.
All interior modifications meet the United States Green Building Council's LEED criteria for recycled content.